New European PulStar patent joins 3 existing patents and numerous certifications
This latest European patent for the PulStar, or as it is called in the patent specification, "Apparatus for in phase treatment of atraumatic musculoskeletal pain," again recognizes the unduplicatable qualities of the instrument.
Growing List of patents and certifications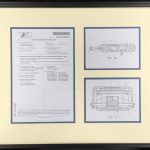 The new patent joins three existing patents. Including:
The PulStar is also ISO certified, meaning that the instrument meets standards to ensure consistent performance.
The PulStar has Certificates of Health from Canada, Japan, China and India. These certificates, which are awarded after "in-depth scrutiny" by health authorities, are a declaration of device safety and effectiveness.
We continue to innovate
In a world changed by the pandemic, so that it will never again accept substandard quality, the PulStar continues to innovate, enabling its doctors to give absolute evidence of quality and consistency in the treatment of chiropractic patients.
The PulStar has been integral in the study of the spine and chiropractic practices as a whole.
It has been used by a NASA affiliate to study spinal stiffness on astronauts in space, by an independent researcher to study the causes of infantile colic, and it is now being used in Palmer College of Chiropractic's new techniques course—to help train the next generation of chiropractors and researchers. To learn more, please take a look at the portfolio of scientific and clinical studies on the PulStar.