In a doctor's hands, The PulStar yields faster and more marked results than conventional treatment, is painless for the patient, and offers safer diagnosis and treatment, shorter treatment times, and greater comfort.
The PulStar instruments add the power of computer-precision multiple impulse therapy to your healing hands.
You and your patient will be able to clearly see the areas of spinal stiffness and then see the effects of the The PulStar adjustment. Typical chronic back pain conditions Joint pain and potentially related conditions Nerve fiber related conditions Repetitive strain related conditions
The PulStar system's gentle multiple impulse therapy helps chiropractors to provide fast, painless relief form some of the most common musculoskeletal conditions. Fill out the search fields below to find The PulStar clinic near you.
Essential Elements Topical Soothing Lotion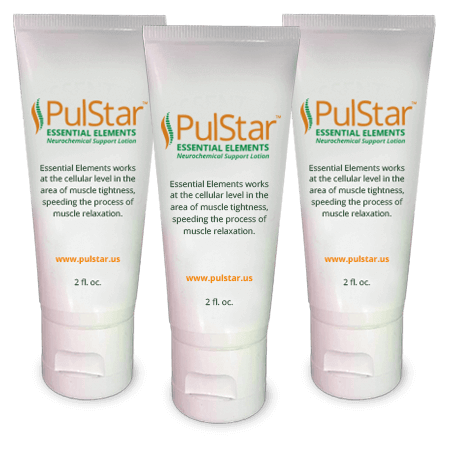 Essential Elements is a cosmetic lotion developed as a soothing application to help support manual therapy, of all kinds, between visits.
What Patients Are Saying About The PulStar Chiropractic Tool
"It's computerized. You can see you're getting better and better over time. It's like a semi-X-ray on a computer."
"I have sought out the PulStar machine at participating chiropractors for over 12 years in 4 states..."
"I like that there's no actual popping, cracking, testing and turning..."
Find The PulStar Clinic Near You