Chiropractic Resources & Clinical Research
Check out the latest pro-tip posts, guides, and clinical research from The PulStar team.
Fill out this form to receive regular expert tips in your inbox!
Latest Pro-Tips blog posts: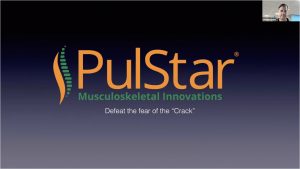 A Look at How PulStar Can Change the Perception of Chiropractic As a chiropractor, you're likely always looking for ways to better serve your patients,
Read More »

The stabbing pain associated with plantar fasciitis can severely limit the quality of life of those who suffer from the condition, as well as their
Read More »

Extremely common yet unpredictable, muscle spasms are an unpleasant sensation that can affect anyone. While some people are more predisposed to experiencing muscle spasms—also known
Read More »
Our patented technologies are specifically designed to help your "healing hands."