Chiropractic Resources & Clinical Research
Check out the latest pro-tip posts, guides, and clinical research from The PulStar team.
Fill out this form to receive regular expert tips in your inbox!
Latest Pro-Tips blog posts:

As a Doctor of Chiropractic, you strive to provide your clients with the best treatment possible. From years of studying the human body to the
Read More »

Which visualization technology is best for your chiropractic practice? The future of chiropractic is here in the form of visualization technology and instrument adjusting. These
Read More »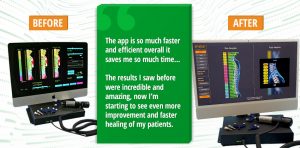 Moving from the software model to an app also means that we will be moving from a flat rate to a monthly subscription model of
Read More »
Our patented technologies are specifically designed to help your "healing hands."