Just a couple months apart, two major chiropractic magazines published marketing tips for chiropractors. The American Chiropractor featured advice from Dr. Kevin Wong, who travels the country speaking about spinal and extremity adjusting and offering other advice to fellow DCs.
Chiropractic Economics also published an interesting list of marketing don'ts in addition to a newer comprehensive marketing overview for DCs titled, "Cracking the code on a marketing masterplan."
This got us thinking that it might be interesting to put some of the suggestions side-by-side, while also adding in some of our own tips to get a real sense of chiropractic marketing Dos and Don'ts.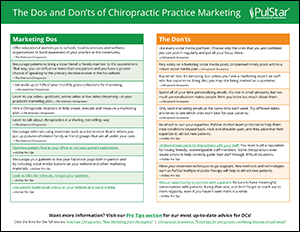 For example, did you know that DCs should:
Set aside up to 10% of your monthly gross collections for marketing
Conversely, DCs shouldn't:
Use every social media platform, unless they have the manpower to post regularly and an audience to interact with.
But there's more where that came from. Get a free PDF download of our full comparative list of Dos and Don'ts.