"For me, I think the PulStar helps answer the 'holy grail' question in Chiropractic: WHERE is the primary subluxation TODAY."

-Dr. Brian Ferguson, DC
Dr. Brian Ferguson Chiropractic opened 27 years ago in Orangeville, Ontario, Canada. Brian first started using a computer-assisted adjustment system in 2005 and became a PulStar DC shortly thereafter. His practice includes four staff members, and it specializes in a multifactoral approach to health and disease, offering robust wellness plans to get and keep families in good health. Scroll down to get to know Brian in a Q & A below.
See what the PulStar can do for you!
---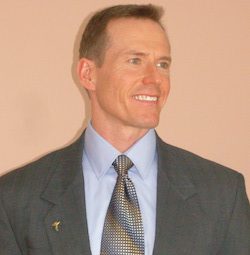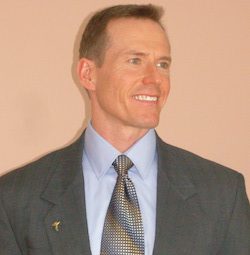 Tell us about yourself.
"I graduated from University of Western Ontario with a B.A., Kinesiology in 1987, then I graduated from Northwestern College of Chiropractic in 1991.
I am an active member of the College of the Chiropractors of Ontario, Canadian Chiropractic Association, Ontario Chiropractic Association and the Dufferin Chiropractic Society.  I'm also a proud board member of the Alliance For Chiropractic, which promotes the delivery of Chiropractic care in a neurological model.
I have lived in Orangeville since 1992 and married my sweetheart, Barb, in 1996. I'm the proud 'Dad' to three Bernese Mountain Dogs."
Why did you decide to become a chiropractor?
"Personal experience! I had headaches as a kid, and Chiropractic helped me. I had 'episodes' when Chiropractic helped me with things like elbow problems from baseball. The immediacy of the improvement was attractive. My Mom suggested I think about Chiropractic as a profession, even though I was on track to be a lawyer, and I'm forever grateful for that nudge."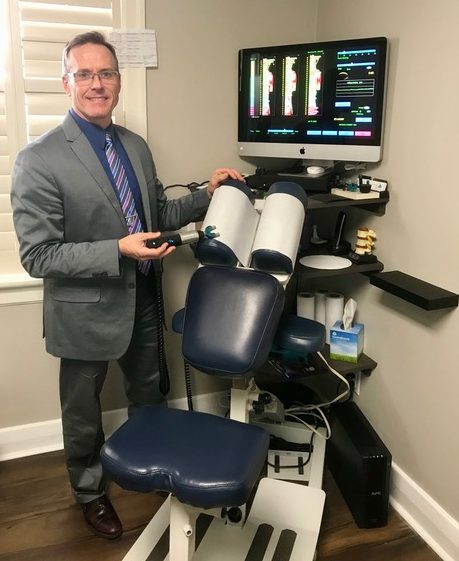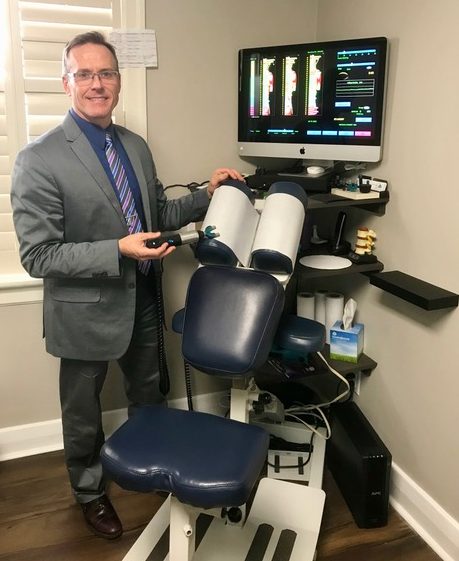 What are the rewards/challenges of owning your own practice?
"Challenges are many—trying to stay on time, to balance fairness in the schedule, to love the people who are hard to love, to ensure staff are feeling valued/rewarded/feel the bigness of their part in the healing, managing expectations of people who are not invested in changing why they have an issue… but it's all good. Because I have also had the opportunity be the person people trust with their health more than any other. I have witnessed the power of the healing potential of the body and been honoured to have assisted that power. I have had the opportunity to educate people about the truth of health and be the encouragement people need as they seek to adapt to life to their capacity."
Tell us about your experience with the PulStar.
"I love it. In terms of the [system I had before the PulStar], the sweep feature, the patient education system, the fact that it's quieter … all are significant upgrades.  In terms of the Pulstar in general—the list of benefits is endless. The objectivity it brings to my spinal analysis is invaluable. For the patient to see objective evidence of a subluxation is critical. The fact that I am held accountable in a post-check for the intervention I have provided is also significant for me and for the patient. It's important as well that people can receive a consistent product and can refer freely for that product with a standardized expectation of experience, and it is amazingly reassuring that comfort level is consistent, for even the most acute patients.
I think the ability to communicate that Chiropractic has the potential to affect the nerve system is a huge part to my success in staying true to Chiropractic principles and not playing the pain game of the MSK-driven practice.
I feel that my body is probably served well with the Pulstar system, as there is a cost to my body from manual care. It's not been the driving force for my decision to go with a computerized system, but it's a factor.
For me, I think the Pulstar helps answer the 'holy grail' question in Chiropractic: WHERE is the primary subluxation TODAY. I feel confident that I won't just see 'Bob' as a "T1 PRI." The system has objectified for me that Bob's care today may be different than the priorities of LAST visit, as we are assessing his dynamically adapting system to my intervention … this gives me authentic certainty to the extent that Chiropractic can have that."
In your career, what are you most proud of?
"Like most DCs, there are the miracle cases, but I think, most profoundly, I'm proud that I am often the most trusted health care practitioner in people's lives. Often, the most trusted person. I have served at the level of developing relationships and trust to a degree that I feel good about.  I'm proud that I've had staff members for 27, 24, and 9 years. I have served others in my career, and I have been true to the principles of Chiropractic along the way."
If you had one piece of advice for someone looking to enter the field, what would it be?
"Take it seriously. People pay REAL money and put REAL trust in you. Take as many seminars as you can and set no limit on your budget for self-improvement and learning different ways to help people. The best feeling I have is that I have done my homework and continue to study, so that when I enter an adjusting suite, I'm prepared. I have earned the ability to know that if a person does not improve under my care, it's not because I didn't do my part in preparation. Further, although I don't always know how much I can help a patient, I enter that suite knowing that I CAN help to some degree. That feeling is only earned. This profession and the patients who will call you 'doctor' deserve nothing less than your sincere effort. There can be no coasting."