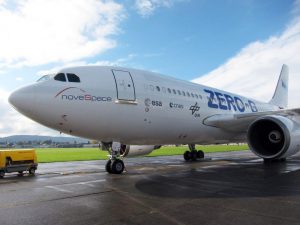 Did you know that lower back pain is common among astronauts in space? Chiropractors from the University of Zurich, Dr. Jaap Swanenburg and Dr. Michael Meier, decided to conduct a study to take a closer look at the problem.
Their research took place on October 22, 2016, in a parabolic flight from Dübendorf, Switzerland, on a modified Airbus 310. The goal was to measure spinal stiffness in a microgravity (commonly known as "zero gravity") environment in both standing and lying positions.
They chose to use the PulStar because of its advanced analysis function, which detects any stiffness or misalignments in the spine by using computerized technology and an impulse tool to measure resistance.
In order to conduct their experiment, they needed to take a PulStar G3 Mobile Suite and modify it for a microgravity situation. For example, the device had to be mounted onto a metal backpack worn by the patient. Also, they couldn't push on impulse head with their hand, so they repeatedly inflated a balloon-like actuator that preloaded the device so that it could give the impulse.
"They could use it because of the way we generate the impulse with a pre-load," says Dr. Evans, PulStar founder. "It is the only instrument out there that you could use objectively for this kind of report."
And in the end, the researchers were successful in recording a real-time muscle activity measurement and an established postural protocol, while also proving that the sophistication of analysis possible with the PulStar.
Got many patients who are going to space?
Just kidding. Seriously, though, we think it was very cool to have been included in this study, and we love the idea that the PulStar is precise enough that someday be used on real astronauts in microgravity in space.
Page 41 of the WFC Report features the study in an article titled "Swiss Chiropractic Researchers Investigate Spinal Stiffness in 'Space'."