You don't need a lecture on how important Facebook is for businesses in today's world—we know you've heard it all before. If you don't have an active Facebook business page for your practice, it's probably because you think you don't have enough time or manpower to manage it properly.
So here are some quick, free ways you can manage with existing staff to engage and grow your followers on your Facebook.
1. Make sure your About section is complete and up-to-date.
More and more people are relying on Facebook as a source of information, so you want to make sure your page can fulfill that function. At a minimum, you need to make sure your hours, address and contact information are correct, and you should also make sure your private messaging is enabled in case a patient wants to contact you. You could take your page one step further by thoughtfully filling out the business descriptions, selecting photos of your staff or office for your cover photo.
2. Use the Button feature
Buttons act as a call-to-action for your patients at the very top of your page. You can only have one Button, but there are many options for you to choose from including: book now, call now, contact us, send email and learn more. Depending which option you choose, your patient will either link directly to the location of your choice, or they will be given a preferred method of contact. If you have an online booking system for appointments, the "Book Now," feature may be an interesting option for you to consider.
3. Use the post-scheduling tool
If you or one of your staff set aside a couple hours to schedule posts once a month, you could have a very active Facebook page that you basically "set and forget." Simply go to your page, click Publishing Tools on the left. Once in Publishing Tools, you can see your scheduled posts in the left menu and create a post by clicking the button in the top right corner. Simply write a post as usual, but instead of clicking Publish, click the drop-down arrow on the bottom right, and select "Schedule." This allows you to choose an exact time and date for your post to be published in the future. Once you schedule the posts at a frequency that suits you (doesn't need to be every day, but try to stay consistent), you can also go in and edit them if you need to before the publish time.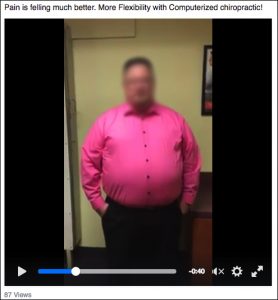 4. Plan a good content mix—Use Patient Videos
There is a lot of debate over the proper ratio between posting your own content and posting content related to your industry, but you definitely want to be sure to mix it up. Examples of your own content could be blog posts, pages from your website, pictures of events, staff bios, patient testimonials or promotions. Conversely, you can find shareable content by following thought-leaders in your industry such as popular chiropractic or alternative medicine publications, by seeing what your patients and competitors are talking about, or by simply surfing the web and using sites like StumbleUpon. Then, see how your followers respond and adjust your ratio accordingly!
Use your front office staff to plan and execute patient testimonial videos on their mobile phones. Have staff target 5 patients per week with goal of posting 2 videos. Ask patient to come back BEFORE appointment and ask "What you like about treatment?" (Of course a PulStar multiple impulse computer adjustment gives patients something unique to talk about.)
5. Go through old posts to "Invite" new followers
Sometimes the people who like your posts do not necessarily like your page—your post simply came up on their newsfeed, so they liked it, but they haven't yet become a follower. You can go to posts that you have published, click the "like" button on the bottom left, and a list of the people who liked the post will appear. If any of these people have not liked your page, a black "Invite" button will appear to the right of their name. Clicking that button will send the person an invitation from your business (not from your personal account), and it is probably the easiest free way to build your follower base.
6. Send patients to your Facebook page
Put "Like us on Facebook" buttons wherever you can. Your website is definitely a good place for a Like button, but you can also embed Like buttons in emails to your patients (post-appointment follow-up emails are a particularly good place for them). Click here for Facebook's Like Button tutorial for you or your developer to get the code for your website.
Looking for unique content for your Facebook page? Follow PulStar for our latest blog posts!