The PulStar method is simple: DCs first analyze the patient's spine to determine misalignments, then they treat the patient by sending gentle impulses into the spine, and finally, they can reanalyze the spine to check on improvements.
At the end of this process, PulStar DCs can print (or email the report via a HIPPA compliant email) from the PulStar system showing the progress that was achieved. Many DCs send the reports home with their patients.
Sounds fairly standard, but the surprising thing DCs are finding is that 1) Patients are becoming excited about their progress and collecting their reports, and 2) They are showing their reports to close family and friends, which is leading to referrals.
But don't take our word for it. Here's what PulStar DCs are saying about the automated reports:
"I market by giving each patient a copy of the printout of the PulStar analysis on each visit. This simple step results in forty (40) new patients each month. I don't advertise or do screenings, I let my patients do the marketing for me."

—Gil Morgan DC – Missouri
"When the patient sees the PulStar graph, it's easier for me to prescribe and visually show where therapies need to be applied and why they are being used. This way I am more able to get the patients through to wellness care and a more complete recovery."

— Peter Cox, DC – Charlotte, NC
"…Over two and a half times the income using the same patient base without even adding new patients … With the PulStar not only am I able to eliminate patients' symptoms more quickly, but I can also show patients why they should continue treatment. The patients are always excited to see their graphs."

—Bruce A. Weiland DC – California
"When a patient sees their graph and has a basic understanding of what it means, they want clinical improvement—not just 'popping' every sore spot."

—Peter J. Szakacs, DC – Langhorne, PA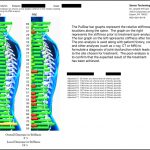 So what do these reports look like, anyway? Download a PDF example of the PulStar's automated reports.