You probably know this but to emphasize the sheer size of the opportunity, an article from The Good Body says 100 million Americans suffer from chronic pain. What type of chronic pain?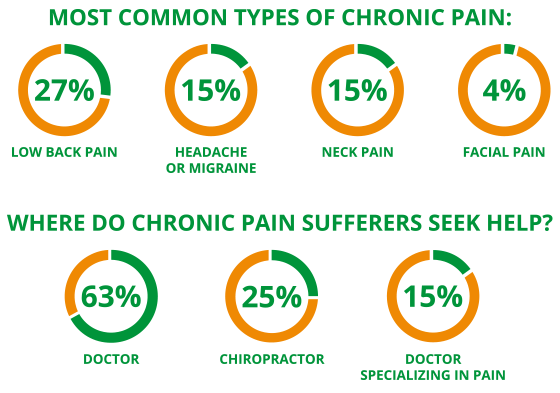 Even if you're already seeing neck or headache patients, clearly the huge numbers of chronic pain sufferers who seek help from medical doctors demonstrates an opportunity to significantly increase your patient numbers.
Getting more neck and headache sufferers means overcoming the negative stigma around manual neck adjustments
To gain more share, Chiropractors need to overcome the scary impressions that mainstream media regularly pumps out about the dangers that can be associated with manual chiropractic neck treatments, for example, Forbes recently cited an NIH report and linked chiropractic neck adjustments to stroke risk.
You might also remember the highly-publicized story about Instagram sensation Katie May, who died from a stroke after a chiropractic neck adjustment.
Even more recently, potential eye damage caused by manual chiropractic neck adjustments was in the news.
The PulStar's gentle impulses are ideally suited for treatment of difficult musculoskeletal conditions
You may be thinking this answer is incredibly self-serving. You may also know that your manual neck adjustments are life-changing for your patients. But in a world where medical technology is the norm, consider how the PulStar with its computer-assisted multiple impulse adjustments can debunk scary media stories, increase referrals and is ideal for consistent and documented neck pain treatment:
The PulStar directs a slight impulse into the patients cervical spine and records the resistance given back and displays it on a computer screen.
Gentle multiple impulses at precise measured and documented force levels provide proprioceptive input to the cervical spine and surrounding muscles to reduce or eliminate pain.
The precise force applied by the PulStar is recorded in the computer, giving the doctor a treatment record that aligns with established protocols.