Focus on providing referral-worthy care. No doubt that's the best marketing you can do. But, what's the next most important marketing step?
The next step has to do with how you treat potential new patient call inquiries, And then how you treat first time appointment-makers. And then how you encourage repeat visits and referrals. Finally, you need to do some online marketing basics.
Of course you can do more. But, if you do nothing else these simple practice management and marketing tips should increase your patient base:
1.Ensure that new patient inquiry calls result in a new patient for your practice. Adapt this tried and true inbound call script: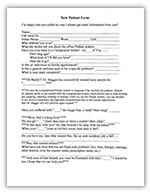 This script, created by Dr. James Maggio—PulStar DC, for his Virginia Beach practice, is brilliant because it gets inbound call staff to empathize with patients, while collecting credit card prepayment info, and reinforcing the serious medical credentials of his practice. He shares the script here, and you can either use it as-is or build upon it for your own practice.
Download Dr. Maggio's New Patient Script
Sending patients home with the right materials, carefully monitoring patient visit rates and an easy-to-use phone system are the tip of the iceberg when it comes to making the most out of your patient base. Learn more here.
Patient-to-patient referrals and MD referrals are both valuable tools. Learn how to unlock their potential here.
Contrary to popular belief, you don't need to be everywhere on the internet. Strategically-chosen web initiatives can go a long way in attracting new patients. Get some tips here.
Get organized with this cheat sheet.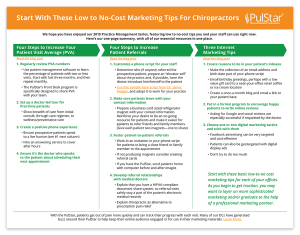 If you want to be as good at practice management as you are at being a doctor, keep these tips handy.
---
Our PulStar Doctors find that the PulStar gives them an advantage in each of these key practice management categories. If you would like to learn more, try a no-obligation screen-share demo.